In a fundraising e-mail to Democratic supporters, Pelosi said that the Democratic agenda is moving the country forward and the Democrats toward victory this fall.

"Republicans are in full-blown 'spin mode' attacking the president and claiming he has lost support," she wrote. "But that is just hype and hyperbole. You and I know better — together we are moving America forward." (emphasis mine)
Oh really?  I suppose she hasn't been watching the most recent Rasmussen poll.  The President's ratings are down, as are the polling numbers of many Democrat's facing re-election this year.
This reminds me of mid-December comments made by the speaker:
Speaker Nancy Pelosi (D-Calif.) has privately told her politically vulnerable Democratic members that they will not vote on controversial bills in 2010 unless the Senate acts first.
Hey Nancy, if you are not worried and all this is "hype and hyperbole" then why the drawback in the House?  Of course anyone with any sense knows why; as the agenda of this administration goes from the blank slate (Obama's words) to concrete action the country is  concerned and those concerns translate in to votes.
The Dems thought "Teddy's seat" in Massachusetts was a shoe-in, suddenly it has become the early 2010 election anyone interested in politics or the course of this nation is watching.  Even the wasted air space on MSNBC is seeing the writing on the wall…  Oh yes they are very worried about Scott Brown.
As only this brand of Democrats seem able to do, Chicago thug politics rears its ugly head as a conservative newsreporter attempts to question  Martha Coakley after the debate with Scott Brown.  Why is it I see a continuing pattern of violence coming from the Democrats?  (this will be a future post)
And how does Scott Brown answer the "Teddy's seat" quip in the debate?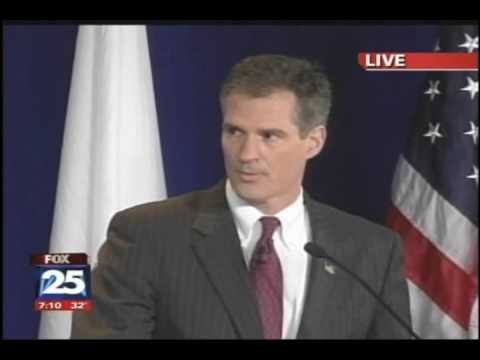 And he is spot on.. the seat belongs to the  People !
Pelosi and the Democrat party refused to acknowledge the 9-12 March on DC where at least 1.5 million people took to the streets, they can ignore the rising tide of patriots in the country.. ignore it all.. but this I will promise, you have awoken a sleeping giant and WE-THE-PEOPLE are mad as hell and not taking it anymore !
We came on 9-12 and we will come again, whether by car, plane, bus or ballot box.  The American people will not sit idly by and let you a destroy the country !