There is dispute as to how many Patriots attended the March on Washington, 9-12-09.  Ranges can be found on the net from 60,000 to over a million.
In 1995, the National Park Service quit estimating crowds for events.  I guess Louis Farrakhan and the Nation of Islam had some disagreements when the Park Service estimated only 400,000 in attendance for the Million Man March.
So here we are today, with the mainstream media purposefully underestimating and minimizing the event.  Plus we have Senior Adviser axelbutt Axelrod stating on Sunday:
"I don't think it's indicative of the nation's mood," Axelrod said on CBS' "Face the Nation." "You know, I don't think we ought to be distracted by that. My message to them is, they're wrong."
Latest Rasmussen Poll on Health Care
Obama had a short-term positive bump in polling numbers following his "you lie" speech last week.  Today polls have fallen back to pre-lie speech levels, with 52% of all voters nationwide opposing the plan.
Can I now say… YOU BOTH LIE !
Ahh, it's one of those "inconvenient truth" moments, because I have read the entire bill.  This would probably shock my unRepresentative Visclosky, since he has publicly stated he only reads the "pertinent parts."  How he knows which sections to read is beyond me, I'm thinking he takes he cues from moveon thugs and seiu goons, which he seems awful cozy with.
So  an official number by the National Park Service seems out of the question.  Scouring the net for clues to attendance numbers, I found something I found interesting:
The above diagram displays how the Park Service before the MMM, computed attendance numbers for inaugurations.
Now a time lapse traffic cam view of the March on Saturday.  The camera shows the March lasted 3 1/2 hours.  Notice at 18 seconds in to this tape, all the white street  lines on Pennsylvania Avenue are covered from Freedom Plaza to the Capital building in the foreground; for almost the remaining 22 seconds of the tape the street is packed.  It should be noted that some chose not to March, instead going directly to the rally area in front of the Capital :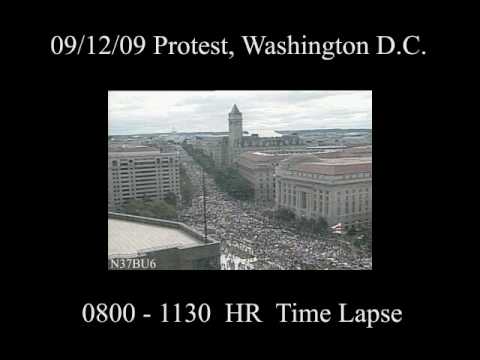 Another interesting street view, warning this may make a bit dizzy, but well worth the watch for the singing of the National Anthem :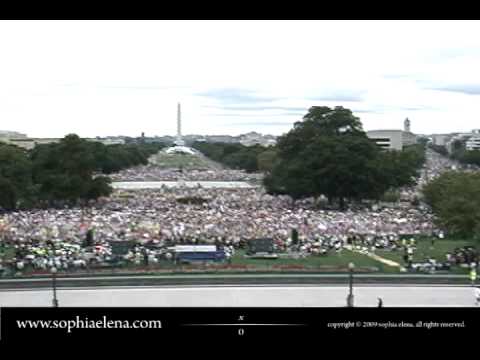 So you tell me, how many people attended the rally?  I would place estimates of at least 1.5 million.  What a amazing day !
H/T to Northwest Indiana Patriots
Double click the picture to see the panoramic view,  WOW!
1,982,760
Seems I underestimated at bit…
Academic analysis of attendees at 912 DC here