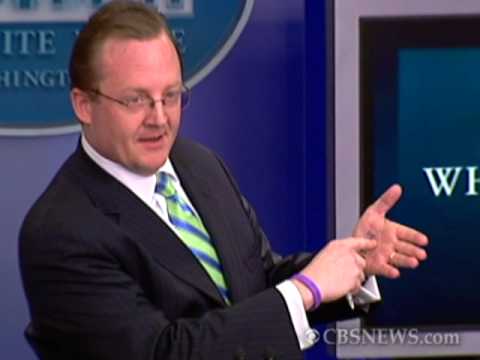 We have a President who barely can utter a coherent sentence without a teleprompter.  I admit he is a fairly good reader, but that's it… because even when reading there are words that give him trouble like say "corpsman."
And of course we have a President who believes there are 57 states.
Gibbs is an embarrassment to the office he holds.  The juvenile antics of this administration just do not stop.  This is indicative of their mentality and the way they view all of us. Have you ever watched Gibbs at a press conference, he quickly moves to smart- ass answers when faced with tough or challenging questions.  It's a game for him and unbecoming the office of Press Secretary.  I have never in all my years watched a Press Secretary act as if the podium he stands behind is his personal audition for comedy central.
During Obama's State of the Union speech he stated that he had done a poor job of explaining the health care proposal.  No, Mr. President you explained it quite well.. the American people are not buying.  We want honest reform that helps individuals who currently do not have insurance; to this end there are small non-intrusive legislation the Congress and your administration could advocate for.  But this administration as well as the entire Democratic party seek   to parent the American people, you want to stipulate every aspect of our individual health care choices.  We do NOT want nor need an intrusive government who makes every decision in our lives, that is why the health care legislation has stalled.
As for Gibbs.. it will be a very happy day when this sophomoric and obtuse guy with his creepy smile that most women recognize as someone not to be trusted is shown the door.