During the bi-partisan health care summit at the White House, President Obama made the following anecdote: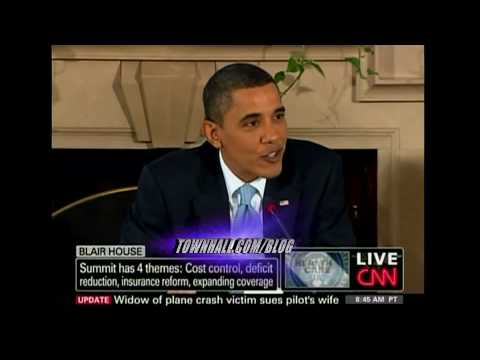 When I was young, just got out of college, I had to buy auto insurance. I had a beat-up old car. And I won't name the name of the insurance company, but there was a company — let's call it Acme Insurance in Illinois. And I was paying my premiums every month. After about six months I got rear-ended and I called up Acme and said, I'd like to see if I can get my car repaired, and they laughed at me over the phone because really this was set up not to actually provide insurance; what it was set up was to meet the legal requirements. But it really wasn't serious insurance.

Now, it's one thing if you've got an old beat-up car that you can't get fixed. It's another thing if your kid is sick, or you've got breast cancer.
Does Obama not know the difference between the minimum legal requirement of liability insurance and comprehensive coverage?  This becomes a tale of twisted logic and a vivid display of how politicians use stories which sound relevant yet have no correlation based in fact.  Yes, Mr. President not all insurance coverage is equal; understanding exactly what is covered in a policy you purchase is important.  What you cannot do though is purchase a policy and expect it to be something different when you need to make a claim on the policy.  You had a "beat-up old car" which you purchased liability coverage on to meet the minimum legal requirements. Liability insurance covers the damage a policy holder may do to  another person's car in an accident.  This "beat-up car" did not have comprehensive or collision coverage, which would have covered the damage done to your car. When you buy an auto insurance policy they explain what is covered and most understand this.. one would think that a Harvard grad would understand this basic difference in coverage.  They laughed at you because you were attempting to get full coverage after the fact.  In fact you should have contacted the insurance company of the driver who rear-ended you because their liability insurance would have probably covered your car's damage.
What Obama failed to understand is exactly what Americans do in fact understand.. what a particular policy means, covers and costs.  Patriots understand the health care boondoggle playing out in Washington will ration care through regulatory panels of disconnected bureaucrats, it will fundamentally change the way decisions are made by doctors and it will further push the federal deficit in to the red.
If this most basic understanding of insurance policies is an indication of your understanding of how insurance works… we are in big trouble.